We provide equipment for professional use
Thanks to over twenty years of experience in hotel television, we select equipment to suit the needs of the hotel. Not the other way around.
The headend defines the main distribution point on the television network.
It is a set of satellite, terrestrial and Internet TV receivers with modulators or streamers and conditional access modules (CAM). In the case of television for hotels, all the above-mentioned elements are usually contained in one device. An indispensable element of the headend is also the antenna system, which includes antennas for terrestrial and satellite TV reception.
Headends usually come in two forms – modular, where along with the expansion of the station, additional modules are added (which usually involves extending the program offer) and compact, which constitute a complete, but closed system with no possibility of further expansion. In most cases, especially for small and medium-sized facilities, a compact headend is a sufficient solution.
How to choose an IPTV headend for a hotel or guesthouse?
The offer of digital terrestrial television is rich. In many hotels, the list of TV channels is based on terrestrial television. Especially if the hotel guests are Polish-speaking. However, if the hotel guests are foreigners, a headend equipped with satellite receivers will be a must-have for the hotel.
It will also be obligatory when the hotel wants to offer Polish premium channels to its guests.
Headends can (depending on the model and manufacturer) transmit to TV sets, TV channels (Content) in several standards. In Europe – analog PAL standard (due to outdated technology, devices of this type are less and less available on the market). Or digitally via DVB-T, DVB-C and IPTV. Digital standards do not differ in any way when it comes to the quality of received programs. The same data is sent in all of them. The quality of the received channels depends on the TV sets, and more precisely on the displays used in them.
It is also important that the headend has the lowest possible power consumption. The device works 24 hours a day, 365 days a year. It is also worth choosing modern designs with passive cooling, without additional fans. Passive devices are characterized by noise at the level of 0dB and are made with the use of components with the highest parameters that do not require cooling for stable operation.
Headend structures are based on various solutions and technologies. The devices differ in construction and operation. Some can be considered quite successful, others less so. A hotel or guesthouse, when deciding to expand the offer of channels available to guests in the rooms, faces quite a choice. The same applies to the modernization of an existing antenna installation. What to choose? What to choose? This is often a difficult choice. That is why we offer tailor-made solutions, i.e. we create integrated systems from the components most suited to the hotel needs.
A brief history of TV headends
From the end of the 20th century to the present day.
At the end of the 20th century, headends equipped with modules for receiving and retransmitting analogue terrestrial and satellite television were common in hotels. Later, it was gradually replaced with digital-analog modules to receive digital TV signals and convert them into an analog signal. The first hotel LCD TVs were released in 2005. And only in 2008-2009 they were equipped with digital receivers. Headend constructions at that time were built on cassette modules that combined a terrestrial or satellite TV receiver (analogue or digital) and an analog modulator, mostly in the PAL standard in Europe. Due to the size of the modules and the fact that one cassette could only handle one TV channel, the headends required a lot of space for installation. They also gave off a very large amount of heat and consumed a significant amount of electricity.
Many facilities did not need large, extended headends. They only needed a few additional satellite programs.
In parallel, the market for small, compact headends was developing alongside the modular stations. The devices allowed the reception of several satellite channels, selected from a small number of satellite channels available at that time. However, they allowed for the enrichment of the TV programming offer in a hotel or guesthouse.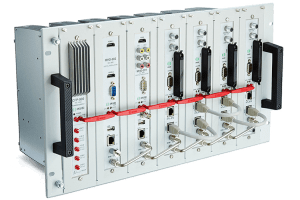 Utilizing the modular technology available, the headends have become fully digital distribution systems for TV channels and content. In addition to receiving digital terrestrial and satellite TV channels, they enable the input of signals from other sources such as: HDMI, VGA, through the ASI and SDI interface. TV channels coming from the headends were most often in the popular DVB-T standard. The less popular DVB-C, on the other hand, offered a larger number of transmitted channels using a similar number of devices. Increasingly, it was also possible to find modules for receiving and transmitting TV broadcasts in the IPTV standard (SPTS and MPTS).
With the development of technology, and hence the miniaturization of devices, headends have become true media platforms. Modern devices provide access to line, terrestrial, satellite and internet TV in hotel rooms. They manage all multimedia signals delivered from various sources.
Compact headends have also benefited from technological advances and miniaturization. As a result, compact devices are now available in sizes previously reserved for multiswitches. Facilities in which it is difficult to find a room for technical and IT facilities can benefit from technological benefits. Complementing the programming offer with additional TV and radio channels.
Are you looking for a solution for your hotel?
We know perfectly well that each hotel is different, therefore we create individual solutions for each facility that best meet the requirements of both customers and owners.